Sometimes when I am taking my time putting on my makeup I am reminded of my teenage years and those Saturday nights my girlfriends and I would gather to get ready for going out. We borrowed each others' tops and would spend hours helping each other do our hair and makeup. I loved that preparation time. Without realising it, we were pampering each other and getting closer as friends.
I was reminded of those times again this morning when I read an article about one of my favourite films growing up, The Breakfast Club.  The article mentioned the scene between Molly Ringwald who played Claire (aka The Princess) and  Ally Sheedy who portrayed Allison who was The Basketcase of the teenage group in the film.  Two completely different characters finally bond over a makeover after spending hours together unable to connect during school detention.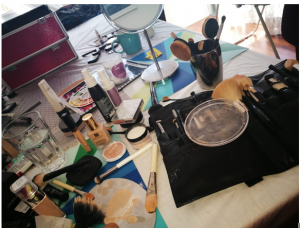 This is one of the reasons why I love make up so much! Now that I am slowly practicing my makeup artist skills on girlfriends again I enjoy the process of enhancing their beauty while making them feel good about themselves. Plus, it's a chance us to catch up and laugh. And let me tell you! Brushing foundation on and spraying faces to fix the make up can bring a lot of surprises and laughs.
First published on "
 From vanity to sanity blog
" on "November, 11,2017".